Merry Christmas
What an incredible month we have had here at Tiqvah Hands of Hope! We love our kids and we especially love seeing the wonder in their eyes during all of the holiday merriment that this time of year brings. There are few things that top it. One things that comes close is seeing our volunteers, donors, and other friends of Tiqvah participate and share in those wonderful moments. This post will highlight a few of the MANY moments we have been able to celebrate with our friends and students.
1. Celebration of Hope
It was a gloomy, rainy Saturday morning but the atmosphere inside the Glenmoor Chapel was far from gloomy. With smiling faces and happy hearts the staff and students from Tiqvah shared about what Tiqvah really means to them. Ms Karla interviewed students and my favorite question was "Our name is Tiqvah Hands of Hope, hope, what does hope mean to you?"
Tamara, 3rd grade - "I will be safe and loved."
Tezzy, 6th grade - "Keeping us off the streets."
Ms. Ashley also shared her dream for Tiqvah and it is one that we all hope for. In the near future we would love to have full-time staff so that our team leaders can spend more time in the schools and in homes. We love being part of the triangle of support each child deserves; school, home and Tiqvah.
With the support from all who attended we will be able to continue growing. We had:
10 months of Parents Group sponsored
11 individuals contributed to our Basic Needs fund
3 individuals helped us with our transportation funds
7 NEW Student Sponsorships!
2. Elf Shop and Family Dinner
December 12th we had a lovely dinner where students received a small gift and a visit from Mrs Claus! This special time was so graciously provided by the staff at Brechbuhler Scales Inc. The kids worked up an appetite by shopping in our first Elf Shop. Several gracious individuals who are friends of Tiqvah put together an incredible room of small gifts for our students to shop for their families. They made the whole experience amazing for our students, from a room full of Holiday Joy to a gift wrapping stations, it was simply wonderful!
The next day was our last day of programming before Christmas break and a well loved tradition, our Family Dinner. Parents and relatives flooded in around 6pm to enjoy a delicious dinner put on by some friends from Aultman. Dinner featured hams provided by FreshMark, salad, corn, beans, mashed potatoes, bread, and of course a wide assortment of Christmas cookies! Some of our students got to show off their dance skills. Our Jr. High boys received certificates for completing their mentorship program with Mr. Kelly Williams and HOLYwood Records, where they learned practical life skills and wise decision making. Each family was sent home with a basket of goodies for the holidays including a family games, snacks, books, and other activities!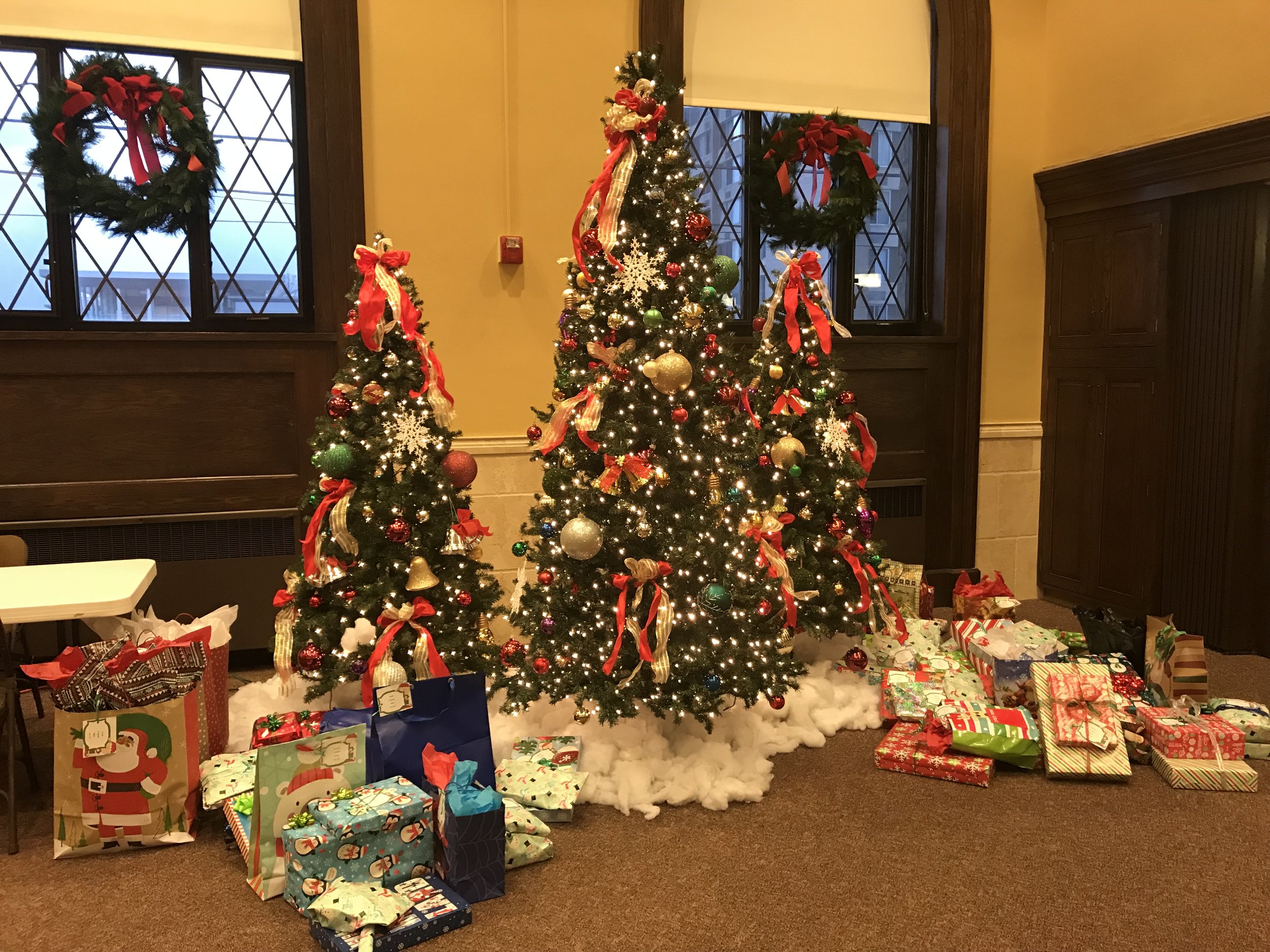 3. Staff Christmas Party
Where would we be as an organization without the incredible souls who make our program possible?! Our team leaders, directors, and food coordinator gathered December 14th to share in a time of growth and training followed by dinner and a fun evening at the local Escape Room. Though they did not make it out in time, they had great fun trying.
As we look back on the last month, we are overwhelmed with gratitude and joy. We are grateful for each and every one of you. Those of you who donate your time or your money, those of you who take the time to pray and petition on our behalf, those of you who talk about us in the community and spread the word about the work being done...ALL of you are part of the Tiqvah family. We wish you a very Merry Christmas and a joyful New Year!